Hapchang Immersive Art Experience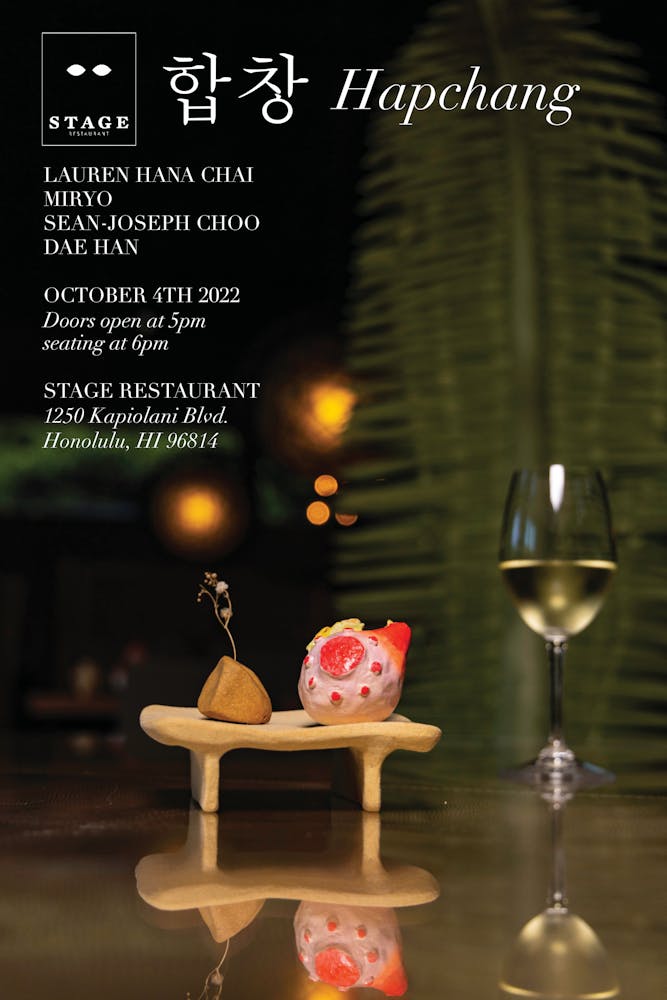 Join Korean American artists Lauren Hana Chai, Miryo, and Sean Joseph-Choo with a night in an immersive art experience hosted by Stage Restaurant. Dive into their world, Hapchang, and witness Lauren and Miryo's ceramic art come to life through the help of performance art by Sean as they explore the habitual fibers that make up our lives.
4-course dinner and art experience: $90/person, includes tax and gratuity
Artist Bios:
Lauren:
Lauren Hana Chai is known for contrasting her traditional Korean upbringing with her modern American life and including a cultural narrative to accompany each piece. As the first in her family born in America, she was raised by her South Korean grandparents in Hawaii. Her current series places side by side traditional elements, such as Korean folk art and Buddhist temple architecture, and modern elements such as interracial relationships or sexually charged figures. She has been featured in NBC News, KBS World Radio, Houston NPR, and the Honolulu Star Bulletin.
Miryo:
Miryo, a Korean American ceramic artist based in Honolulu, Hawai'i, aims to create a ceramic environment of its own. Miryo's ceramic pieces work collectively to evoke settings inspired by Korean landscape and stone architecture through the senses of sight, sound and touch. Like in any ecosystem, each participating piece is equally reliant and needed to shift the tone of the space they live in. Inspired by her fascination with stones, Miryo focuses on clay bodies and techniques that allow her pieces to resemble the look and feel of stone structures.
Sean:
Sean-Joseph Choo is an actor, composer, and writer based in Honolulu invested in imagining how religion, queerness, and culture intersect and conflict. Sean is a student of Mary Jo Freshley at Halla Pai Hahm Dance Studio. Sean's one-man show, i love my AAPI grandparents! premiered at Pan Asian Repertory Theatre's NuWorks 2022 earlier this summer.
for reservations, please call us at 808.237.5429, Tuesday - Saturday from 5pm - 10pm or email elise@hdc-hawaii.com.